Get Zero Down Car Insurance Online and Save Hundreds. Fast, Free Quotes. Cheapest Rates From Just $18 a Month.
FREE Auto Insurance Comparison
Compare Quotes and Save!
Secured with SHA-256 Encryption
TO KEEP IN MIND
Very low down payment, auto insurance is the best way to get the coverage you need without paying a lot of money upfront.
In exchange for waiving the initial payment, you will be required to make the first month's payment for your coverage to start.
A zero-down car insurance policy might cost you more money in the long run.
You can probably get cheaper rates online, but it's good practice to compare as many quotes as possible.
If you don't have the money to pay for your premium in-full upfront and are low on cash, zero down car insurance can help you get insured with as little out-of-pocket cost as possible. Even though no deposit is required, with a zero-down policy, it becomes active once the first installment payment is made.
When someone pays for their car insurance, they have two basic options. The first is to pay the entire six-month or twelve-month premium in advance. Doing so can earn a driver a nice discount of 2% or more.
The other option is to break the premium cost into monthly six or twelve monthly installments. This is the only way to get insured for those low on cash. Most companies will require a deposit upfront, ranging from 8% to 33%. Putting down a huge deposit and making the first month's auto insurance payment can be a financial obstacle for many.
Zero Down Car Insurance Offers Minimal Upfront Costs
Auto insurance with zero down can be a financial "lifesaver" for someone low on funds. Maybe they just bought a new car and used up all of their savings. Another example is someone in between jobs scraping by but still needs to renew their auto insurance with as little down as possible. These low money-down policies are also good for students and even for someone starting a business that needs every possible dollar.
Auto insurance with a very low down payment is the best way to get legally insured without paying a ton of money upfront.
The good news is several insurers offer zero down car insurance, which is the cheapest route to insure a vehicle. You will pay more overall for the policy but will get legally covered for the smallest amount in the first month.
It's important to note that not all states allow zero deposit auto insurance plans, and most insurers do not offer it. The main reason why providers don't promote it is simple: these types of policies often prove to be unprofitable. It makes sense when you think about it. A driver that cannot afford a deposit might also miss an installment payment, stop paying altogether on their policy or commit insurance fraud.
There is no such thing as first-month free car insurance. No insurance provider will cover a vehicle prior to receiving payment. With a zero down auto insurance plan, the first month of coverage could be as low as $35 for a "bare-bones" liability-only policy.
First, you'll have to find a company that offers this plan instead of making you pay you the entire amount of your six or 12-month policy before your coverage starts.
In exchange for waiving a down payment, you will be required to make your first month's payment to get your coverage started. This means that you will initially have out-of-pocket costs, but they should be much less than you would otherwise pay.
Do You Qualify for Zero Down Car insurance?
Your insurance premium is based on the risk the insurance company is taking by insuring you. For example, if you have a bad driving record or poor credit history, you're almost sure to pay more for your policy than someone who doesn't.
Higher-risk drivers have less chance of qualifying for a 0 down car insurance policy, as the insurance company will likely consider you too risky. To increase your chances of qualifying for a $0 down policy, obey all traffic laws and stay ticket and accident-free.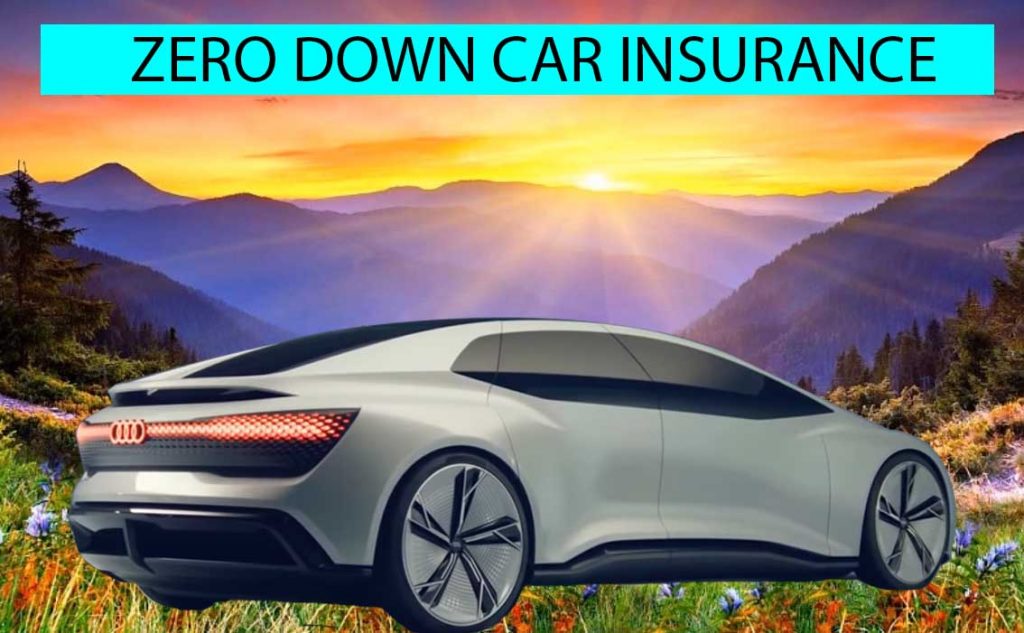 Factors Insurers Use to Determine Your Premium and Deposit Amount
Other factors a car insurance company considers when calculating your premium and deciding whether or not you qualify for a no down payment car insurance policy include:
Your age: As you get older, your chances of qualifying for car insurance with no down payment will increase.
The age and value of your car: If you are driving a newer model car with a reasonably high price tag, you may not be able to get zero down payment car insurance. Instead, you'll be asked to put more money down, as the company is taking a higher risk by insuring you. On the other hand, if you drive an older, less expensive car, your chances of being offered with 0 down car insurance options increase.
Your credit score: Your credit score is a significant factor in your ability to get insurance without a down payment. If you have good credit and a good driving record, you shouldn't have any problem.
The state you live in: Currently, only a select few states offer no down payment policies. These include:

Arizona
California
Georgia
New York
Oklahoma
Washington
Florida

The insurance company: Not all insurance companies offer zero down car insurance options. Those that do include:

Farmers
Alliance
Kemper
Nationwide
Progressive
Safe Auto
State Farm
This is not a complete list. Other providers offer no money down insurance options. It's smart to contact an agent to discuss all of your options, including available payment and deposit options.
The Truth About Zero Down Payment Auto Insurance Policies
It would be best if you didn't automatically assume a no down payment car insurance policy will save you money. It may cost you more money in the long run. The easiest way to explain this is by using an example.
Let's say Company 'A' agrees to insure your car for $800 a year. The only catch is that you must pay the entire amount upfront. On the other hand, Company 'B' agrees to give you zero down car insurance policy with the same coverage amount.
However, you'll need to pay the first month's premium to get the policy started. Your monthly premium will be $100. You happily pay the $100, thinking about all the money you've saved ($700 less than you would have paid Company A to start your policy). Later, you sit down and do the math. If you pay $100 a month, that's $1,200 a year. That's $400 more than the "cheaper" Company B.
If you can pay your entire month's premium upfront, it's a good idea to do so. Insurance companies will give you a discount.
However, if your budget won't allow you to do this, a monthly premium with no down payment is likely your better option.
Let the companies fight for you. Get a Quote!
Just enter your zip below
Choosing the Right Insurance Coverage
When you shop for good auto insurance, you'll first need to decide what type of policy you want. While liability coverage is required in all 50 states, full coverage insurance is optional.
In the event of an accident, liability doesn't cover you or your car's damages. For your vehicle to be covered, you'll need collision coverage. It is included in most full coverage policies.
If you have a vehicle that is worth more than $10,000, getting comprehensive coverage makes sense. Just think about it. If you get into an at-fault accident and total your vehicle and only have liability coverage, you are responsible for replacing your vehicle. In this case, that means you'd lose the $10,000 value of your automobile. Also, if you lease a vehicle, you will be required to purchase comprehensive coverage. This is mandatory because the lender needs to protect their investment in leasing the car out.
Full coverage is almost certain to increase your monthly premium. It's strongly recommended in most states and offers broader protection if you get into a severe accident.
Shopping Online for Zero Down Auto Insurance Coverage
Shopping around online is one of the easiest and most convenient ways to look for zero down car insurance policies. Simply enter "0" in the field that asks how much money you want to put down.
The company may or may not accept this, but you'll know for sure once you apply for a quote. Most customers can save $400 or more simply by shopping online for direct rates. If you already have a couple of quotes from agents, get online and compare rates in just a few minutes.
Chances are you can get cheaper rates online, but it's always good to compare as many quotes as possible.
FREE Auto Insurance Comparison
Secured with SHA-256 Encryption
How to Get Cheaper Car Insurance
You can do several things to help yourself find cheaper car insurance. This includes:
Drive safely. In addition to protecting yourself on the road, driving safe is an excellent way to ensure your record stays clean. This will help keep your premium low.
Consider your deductible options. The higher the deductible you agree to pay, the lower your monthly premium will be. On the flip side, you will have to pay this amount if you are involved in an accident, which means you may have to come up with a big chunk of money later.
Reduce your driving time. The fewer miles you drive every month, the more likely you qualify for a discount for low mileage driving. To do this, you may want to look into carpooling, taking public transportation, or working from home.
Request automated payments. Some insurance companies will give you a slight discount when you sign up for automated payments. You won't have to worry about missing your payment as an added advantage.
Ask about discounts. You don't know what discounts you may qualify for until you ask. For example, you may receive a discounted rate if you're a student, in the military, or a first responder. There are plenty of other discounts too.
Opt for the extras. Even if you don't qualify for 0 down payment car insurance, a provider may still offer you perks for being a customer. For example, you may be allowed coverage for locksmith services, pet injuries, or transportation expenses following an accident.
Conclusion
A zero-down car insurance policy will allow you to get legally insured for minimal upfront costs. You will only be required to make the first installment payment to activate the policy. Not all drivers will qualify for a zero down policy.
Less risky drivers with a clean DMV record and good credit have a greater chance of getting a $0 down plan. These types of policies are not widely promoted by insurance providers and are not available in all states. DirectAutoInsurance.org is a site that allows you to get quotes from multiple insurance companies offering zero down car insurance. Fill out the requested info, and you'll be on your way to getting quotes from the best insurance providers in the country.
Let the companies fight for you. Get a Quote!
Compare Quotes From Top Rated Insurers. Good Drivers Can Get Good Discounts. See How Much You Can Save Now!
Secured with SHA-256 Encryption