Cheap Non Owner Car Insurance
Are you searching for cheap non-owner car insurance, but unsure of where to start? Get the Cheapest Non Owner Car Insurance Online. Fast, Free Quotes. Lowest Rates From $18 a month. Try our offer and save up to $499/year today!
FREE Auto Insurance Comparison
Secured with SHA-256 Encryption
WHAT YOU NEED TO CONSIDER
Non-owner auto insurance is intended for drivers who, although they do not own a vehicle, occasionally drive someone else's.
Non-owner policies generally don't cover the driver or the driven vehicle but do cover third-party and third-party property damage.
This insurance is perfect for people who use borrowed vehicles or rent cars frequently, as this policy protects them from a costly lawsuit.
Are you searching for cheap non-owner car insurance, but unsure of where to start or what to consider when choosing a policy? The following provides a look at all the essential questions you need an answer too. This includes who needs non-owner auto insurance, who may be required to hold non-owner car insurance, who cannot purchase this policy, what is covered, potential costs, and what types of vehicles are covered. Finally, you'll find a brief list of insurance carriers that offer this type of policy and a huge tip designed to help you find the most affordable policy.
What Is Non-Owner Auto Insurance?
Non-owner car insurance allows anyone driving a car that they do not legally own to obtain insurance in case of an accident. This may be because they borrow a car from someone else or rent one for an extended period.
Who Needs a Nonowner Insurance Policy?
Most drivers looking for a nonowner insurance policy are doing so because the state they live in requires that they submit a certificate of financial responsibility (CFR) to have their driver's license reinstated. This is often referred to as nonowner SR-22 insurance coverage. In many cases, nonowners will have one or more of the following on his or her record.
Failure to pay child support or any other legal obligations ordered by the court

Being involved in an accident while uninsured

Causing multiple accidents and being recognized as a High-Risk Motorist

Having court-ordered legal judgments against them

History of DUI convictions

Applying for a hardship license

Being convicted of a charge related to reckless driving, such as exceeding 100 MPH or drag racing

Having a driver's license with an excessive amount of points
Anyone who is applying for a hardship license will more than likely be required to get nonowner automobile insurance.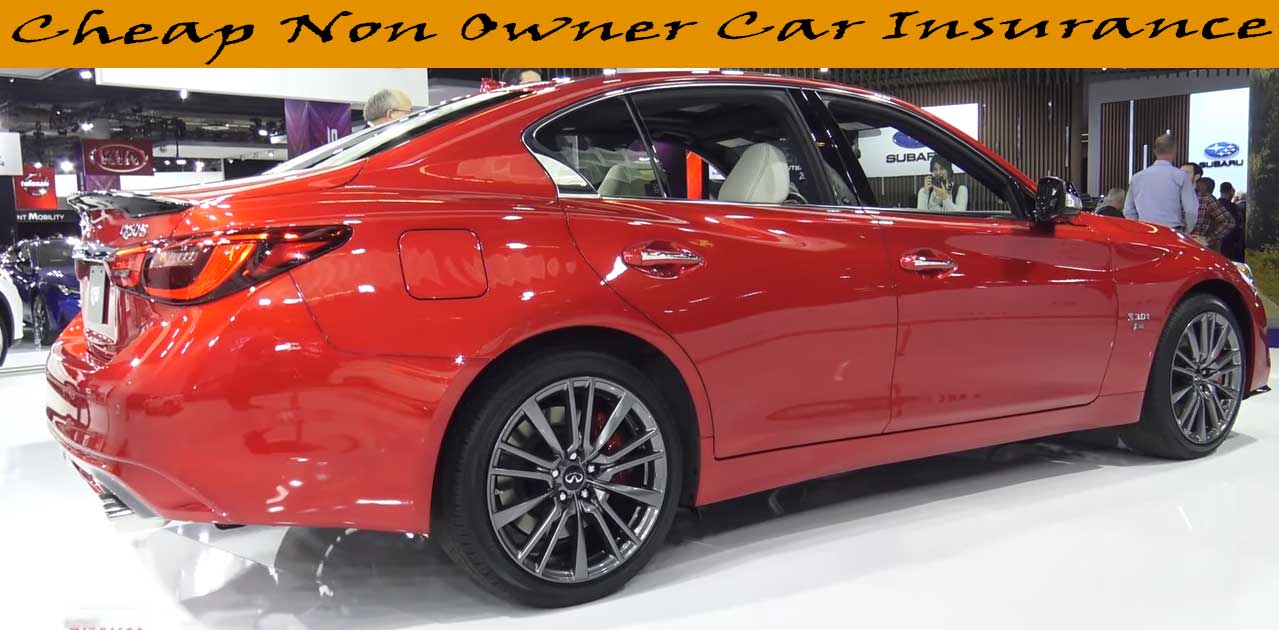 Who Cannot Purchase Non-Owner Insurance?
Typically, certain people are excluded from purchasing nonowner car insurance. This is usually at the courts' suggestion and may include someone who is required to have an ignition interlock device or "IID" installed on their vehicle.
Who Does Not Need a Nonowner Car Insurance Policy?
There are certain situations in which you will not need the coverage offered by a nonowner policy. This includes:
Any time you are no longer required to supply an SR-22 insurance form and own your own vehicle

You hardly ever rent vehicles

The company car you are responsible for driving is only used to conduct business

You are borrowing the car of a family member you reside with
FREE Auto Insurance Comparison
Secured with SHA-256 Encryption
Types of Coverage Available through a Nonowner Car Insurance Policy
In simple terms, nonowner insurance covers property damage and/or injuries when a driver is involved in an accident.
Nonowner insurance serves as protection for drivers operating a vehicle they are not the owner of. Besides, it provides the registered owner with additional protection if their car is involved in an accident while being driven by someone else.
Nonowner policies usually include only the minimum mandated coverage in your state. However, you do have the option of selecting higher limits and more extensive plans for added security. Most policies will cover:
Personal Injury Protection (PIP) – Regardless of who is determined to be at fault, PIP covers injuries obtained in an accident.
Liability Coverage – This pays for injuries and damages you were determined to have caused to the other parties. Your passengers are not included.
Uninsured Motorist Coverage – This optional coverage offers protection if you are injured or have damages resulting from another driver who is determined to be at fault and does not have car insurance coverage. It is a good idea to include it in your nonowner car insurance policy.
Let the companies fight for you. Get a Quote!
Just enter your zip below
Potential Costs of a Nonowner Car Insurance Policy
Typically, nonowner insurance is considerably cheaper than other car insurance policies. The average policy is usually available for around $490 per year. However, if you are obtaining nonowner insurance to fulfill the SR22 requirement, your costs may be much higher. In some cases, your yearly premium may reach as much as $1,230 or more.
Drivers who are mandated to have SR-22 coverage are considered to be a much higher risk than other drivers, as they are more likely to engage in dangerous driving and be the cause of an accident.
Be aware that the requirement of keeping SR-22 coverage is not lifelong. Depending on the reason you are required to carry it, you will likely have to maintain your coverage for a period of one to five years. When this period is over, you may no longer need nonowner car insurance.
How is the Cost of Non-Owner Car Insurance Coverage Figured?
Like with any other insurance policy, the company considers a variety of factors when determining your premium amount. Factors that are considered include:
Insured's driving record and how many years they've been licensed

Insured's credit rating and status as a homeowner or renter

Age of the insured

Insured's gender

Where the insured lives and where they will be driving
What Types of Vehicles are Covered with a Nonowner Policy?
Any type of vehicle is included. However, it must not be owned by you or registered in your name. Also, you must plan to drive the car for an extended period.
FREE Auto Insurance Comparison
Secured with SHA-256 Encryption
What Companies Offer Non-Owner Car Insurance?
Numerous insurance companies have this type of coverage available, including some of the biggest names in the auto insurance industry. Here are several popular carriers:
Nationwide

State Farm

Geico

The General

Progressive

Titan
Geico Non-Owner Car Insurance
Geico nonowner is an excellent option for customers that need the cheapest rates. If you are searching for a nonowner policy at a reasonable price, Geico is an excellent place to start. Geico nonowner auto insurance is a liability-only policy. This means the policy pays out for property damage causes and personal injuries resulting from an accident you caused.
Geico nonowner insurance does not cover damages to your vehicle after an accident and will not include natural events that damage the car, like a flood or fire.
Geico often provides cheap nonowner car insurance. A typical policy can be purchased for $300 and up per year. Your rate Geico will charge you for a nonowner policy will vary due to many factors. This includes:r
Your Driving Record

How old you are

Your Credit

Where you Live
Geico also has cheap non owner car insurance with low deposits. Also, if you need nonowner sr-22 insurance, Geico has low rates on this type of coverage. Geico is a direct insurer and offers nonowner policies online. If you have any questions about Geico nonowner car insurance, you can call toll free, and an agent will be glad to assist you. Get a free online nonowner auto insurance quote today. Start by entering your zip code.
Let the companies fight for you. Get a Quote!
Just enter your zip below
What Companies do not Offer Nonowner Policies?
While plenty of agencies do offer this policy, there are several that do not. These agencies include Allstate, Esurance, and Liberty Mutual.
Cheap Non Owner Car Insurance Quotes
To get the cheapest nonowner car insurance, you will need to take the time to compare quotes. This is both the easiest and most effective way to make certain you get a great deal. For the best results, you should reach out to at least 5-7 companies. Make sure that the policies you are considering are the same before and provide you with all the coverage you need before you finalize your decision.
Now that you have a better understanding of nonowner insurance and why you need it, it is time to start getting your quotes. Enter your zip code and compare direct nonowner car insurance rates in minutes. See your custom rates in minutes.
Let the companies fight for you. Get a Quote!
Compare Quotes From Top Rated Insurers. Good Drivers Can Save 50% or More. See How Much You Can Save Now!
Secured with SHA-256 Encryption