Otto Insurance Reviews – Ratings and Quotes (2023)
Otto Insurance works to connect clients with their best affiliates and insurance partners.
FREE Auto Insurance Comparison
Secured with SHA-256 Encryption
Address: 429 Lenox Ave, Miami Beach, FL, 33139
City: Miami Beach
State: Florida
ZIP Code: 33139
Phone Number: 1 (855) 534-4513
Email: info@Ottoinsurance.com *
Website: https://ottoinsurance.com/
(*) You can remove your information from the Ottoinsurance.com database using this email.
Fortunately, it is no longer needed to contact every insurance agent in person to find excellent insurance quotes. Many websites have convenient online tools to help you get the best insurance rates very easily. However, as there are so many online options, it is more challenging to know which website to trust and which to avoid.
For this reason, we have studied the quote comparison tools of several providers, including the one offered by Otto Insurance. We have also analyzed many Otto Insurance reviews. With our article, we seek to provide you with our assessment of this company. This way, you can consider it before getting insurance quotes through Otto's quote comparison tool.
Otto Insurance Overview
Otto Insurance uses technology to provide customers with a convenient place to get their insurance quotes. The company is primarily a lead generation website. It could be said that it acts for clients as a concierge service within the ocean of options in the insurance industry.
Otto works to connect clients with their best affiliates and insurance partners. Because it works with numerous individual agents and regional and national companies, it can help clients obtain adequate insurance rates.
Through Otto Insurance, you will not be able to obtain insurance quotes immediately, although it does connect users with the best quotes in the market. The company ensures that its more than 1,000 partners and affiliates compete for your business based on the information you provide.
Where does Otto operate?
Otto Insurance's main office is located in Miami Beach, Florida. However, Otto's affiliates and partners are distributed remotely in all 50 states and US territories.
Is Otto a Reliable Company?
There isn't a lot of published history on Otto but a lot of bad Otto Insurance Reviews. Its website, Ottoinsurance.com, doesn't provide much on the company's background either. Amazingly, even though the phone numbers shown on the website are active, the BBB or Better Business Bureau lists this company as no longer in business.
Types of Insurance Quotes Otto Offers
On the Otto Insurance website, you can get quotes for the following types of insurance:
Auto
Life
Home
Pet insurance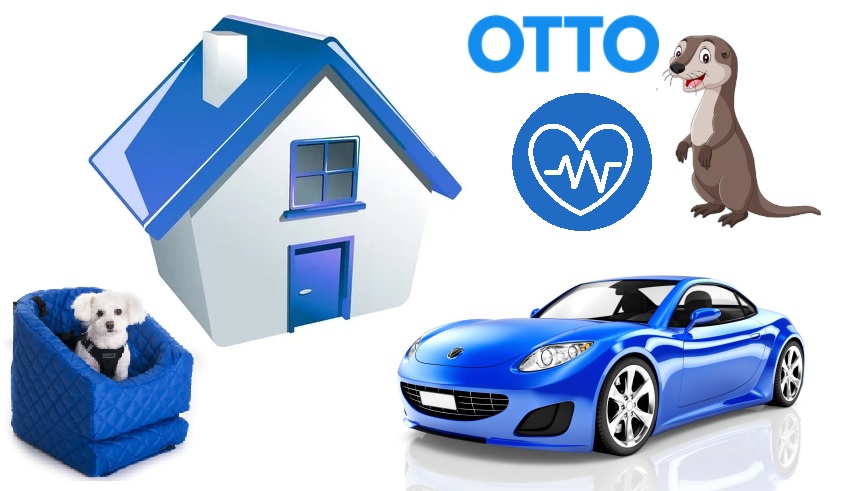 How does Otto Work?
Otto's quote tool is extremely easy to use. However, once you complete the form with simple questions about yourself, your vehicle, or your home, the quotes will not come to you right away. Otto uses the personal information provided by each customer to connect you with one of its many partners or affiliates. Once contacted by an insurance agent, you can easily continue the quote process.
You just need to go to Ottoinsurance.com and click Get Started Now to use Otto Insurance services.
Otto's Quote Application Process
1. Select the type of insurance you want to get
You can select from Otto Auto Insurance, Home, Live, and Pet options. Then enter your ZIP code to start applying.
Otto Insurance will ask if you currently have an insurance policy but promises to work hard to find the best and cheapest rates for you, whether or not you're insured.
2. Provide the necessary information
During the process of getting insurance quotes, you will need to provide information about the type of vehicle you drive. You can choose to have Otto look up your car information online using your name and home address. However, please note that you will need to enter the information yourself if you have not yet purchased the vehicle.
You will also need to answer other essential questions such as your age, marital status, gender, and if you are a homeowner or renter. You will also be asked if you want to bundle your auto and home insurance. Please note before answering that this is one of the safest ways to get discounts on your insurance premiums.
3. Submit your quote request
In just a few minutes, Otto will confirm if there are any discounts you may qualify for. You will then need to enter your name and phone number. But before you click the Get Your Free Quote button, please note that you agree to be contacted by Ottoinsurance.com or its partners and affiliates. Just by clicking on the marketing partners link, you will notice that there are more than 1000 companies in this category.
Although the Get Your Free Quote button may appear as if your quotes will follow, this will not be the case. The next page will only show that your quote request has been submitted. Additionally, an insurance agent from one of the affiliated companies will contact you to continue the process.
In addition, Otto Insurance will provide the website links of two insurance companies for you to compare, but without additional information about these companies.
Negative Otto Insurance Reviews
You'll be hard-pressed to find any positive reviews of Otto Insurance online, except on the company's website. Most customers who review Otto Insurance are upset that the company distributes personal information to its affiliates or partners (even when warned at the time of applying for a quote through the Otto Insurance website).
Below is a sample of Facebook comments from some of these dissatisfied customers: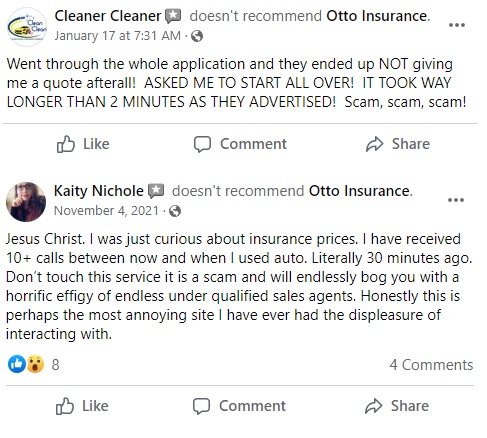 Our Take On Otto Insurance Reviews
The content on the Otto Insurance website can make people think that they will get direct and fast quotes. However, it is not so. But it is also true that Otto Insurance makes it clear that they will only match clients with its affiliated companies and partners since Otto is not an insurance company itself.
In Conclusion
You won't be able to get Otto Car Insurance quotes. This is because Otto is not an insurance company but rather a legitimate lead generation site.
The company shares the information of its users with a network of more than 1,000 affiliates and insurance agents who will contact them to offer quotes.
Unfortunately, there are a lot of negative Otto Insurance reviews due to the fact that the quoting process results in a lot of unsolicited calls to its customers.
There are also positive reviews of Otto's service on the company's website. So if you don't mind getting too many calls, you'll be able to choose the best one from a multitude of insurance options. Otto insurance is worth a try.
Frequently Asked Questions about Otto
Is Otto a legitimate company?
Unfortunately, there is not much information available about Otto Insurance online. Only the address and telephone number appear on their website, but there is not much more information. While this is not something that directly implies the non-legitimacy of the company, it is also not listed in the Better Business Bureau (BBB) either. What is very likely, based on customer reviews, is that once you request a quote through Otto, you will receive many calls from insurance agents who want to compete for your business and will offer available insurance plans and rates.
What types of insurance products does Otto compare quotes for?
According to the company's website, Otto compares auto, pet, home, and life insurance.
Does Otto return actual rates?
No, Otto sells leads and does not offer direct quotes. Otto sends its users' information to a network of over 1,000 affiliates and insurance agents, making it a leading lead-generation website.