ACCC Insurance Company – 2021 Review
Compare Car Insurance Quotes and Start Saving Today! Get now your ACCC Insurance quote and see how much you can save.
FREE Auto Insurance Comparison
Secured with SHA-256 Encryption
WHAT YOU NEED TO KNOW ABOUT ACCC
ACCC is a specialty auto insurance carrier defined by selling non-standard policies.
The company mainly provides non-standard coverage for drivers who hardly get insured due to their high-risk profile.
ACCC has terrible reviews, mainly based on delays in claim payouts.
The company offers convenient 30-day policies, attracting customers who need coverage immediately but do not want to get a long-term policy.
Address: 390 Benmar Dr, Houston, TX, USA
City: Houston
State: Texas
ZIP Code: 77060
Phone Number: Toll Free- (888) 823-0888
Year Founded: 1997
ACCC Insurance Overview
ACCC Auto Insurance is a privately owned insurance company that focuses on offering affordable prices on personal car insurance coverage. The company began operations in 1997 from its headquarters in Houston, Texas.
ACCC Insurance Company has an extensive group of more than 3,000 authorized insurance agents, which are the primary sales outlet for its insurance products. Additionally, ACCC specializes in non-standard insurance coverage for higher-risk drivers by providing competitive monthly rates for this critical driving group. It's one of the few providers that offer one-month coverage.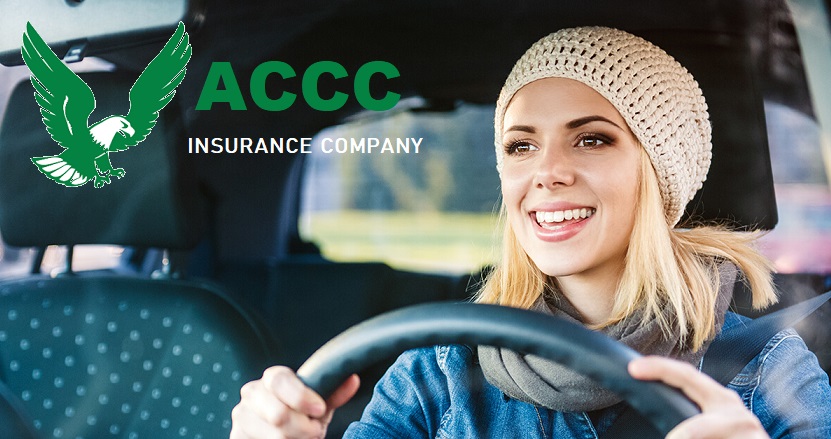 ACCC Insurance Availability
ACCC Insurance primarily focuses on serving nine states in the southern area of the United States. The company is a licensed insurance provider, and its network of agents sell policies primarily in the states of:
Alabama
Arizona
Georgia
Louisiana
Mississippi
New Mexico
South Carolina
Utah
Enter your zip code and complete an instant auto insurance quote request. Compare prices for ACCC non-standard coverage and save hundreds with direct rates.
FREE Auto Insurance Comparison
Secured with SHA-256 Encryption
ACCC Insurance Website
An eagle logo represents ACCC Insurance's main website, which is Drivewiththeeagle.com. Consequently, the company motto is "drive with the eagle."
Recently, this insurance carrier has tried to move its online focus to a different website that reflects its core brand.
With this objective in mind, the company has developed ACCCInsurance.com, where the insurer could provide online quotes and sell direct policies at some point. In the meantime, you won't be able to get a car insurance quote or purchase a policy through Drivewiththeeagle.com or ACCCInsurance.com. Fortunately, however, some options are available online for current policyholders, including:
Online payment of your bill
Submit and follow up on a claim
Check your insurance policy
ID Cards Printing
Downloading the mobile ACCC auto insurance app
Once the new ACCC app is downloaded, which is available for iOS and Android users, policyholders will be able to make payments through it. Additionally, customers could verify their current policy, set up recurring payments, and print an ID card. There is also contact information on the website. During regular business hours, that is, 9 am to 6 pm, central time, you will be able to contact an insurance agent or company representative.
An advantage for Spanish-speaking consumers is that the ACCC website has both English and Spanish versions. Having a site with a Spanish version is really a competitive benefit when this company's target market is the southern states of the country. Many clients only speak Spanish in these states, and the company directs its marketing efforts to the growing Latino population. You can also get a free ACCC car insurance quote by calling toll-free and talking to a licensed agent.
Available payment methods
Debit or credit card payments
Wire transfers
Electronic checks
Payment by mailed checks
Quick Facts About ACCC Insurance Company
ACCC is defined by selling non-standard car insurance policies, which is why it is considered a specialty insurance carrier.
The company mainly provides non-standard coverage for drivers who find it difficult to get insured due to their high-risk profile. Many motorists with DUI violations on their driving record and reckless driving charges find the way with ACCC auto insurance coverage.
A bad sign about ACCC Insurance Company is its low rating by the Better Business Bureau. Furthermore, the company is not accredited by the BBB. Overall, ACCC has terrible reviews, mainly based on delays in claim payouts.
The company offers one month or 30-day policies. This is an advantage over the competition, as they attract customers who need coverage immediately but do not want to get a long-term policy for 12 months.
Let the companies fight for you. Get a Quote!
Just enter your zip below
ACCC Insurance Coverage
ACCC primarily focuses on insuring drivers regardless of their driving history. Though, as part of its reputation, the company sells non-standard auto insurance, which includes:
Bodily Injury Coverage
Roadside assistance coverage
Property Damage Insurance
Uninsured motorist coverage
This company is part of the narrow group that offers policies for only 30 days. As part of the non-standard auto insurance market, some clients only need immediate coverage for specific reasons. Buying a policy for 12 months is meaningless in these cases. Thus, more than 50 percent of ACCC's sales are one-month auto insurance policies. After this period, some customers will try to get better coverage and rates, but others will renew the policy for another 30 days.
Insurance Coverage Costs
Among the factors that ACCC insurance includes to determine the rates according to the risk profile of each driver are:
Driver's age
Driving history
Type of vehicle
ZIP code
Homeowner/renter status
Gender
Marital status
As is common in the auto insurance market, drivers under 25 years old pay the most expensive rates for coverage. So is the case with ACCC, where a non-standard young driver policy could cost $250 a month.
Costly rates are another reason why many young drivers are inclined to get a 1-month ACCC car insurance policy.
Now, if a driver over the age of 25 does not have DUI convictions on their driving record, the fees can easily be less than $200 per month. However, although ACCC rates are cheaper for this age range, they are still expensive than other insurers.
Additionally, ACCC Insurance's non-standard policies are more costly than a standard coverage. This causes many people to buy only a 30-day policy due to the high price of the non-standard policies they need.
ACCC Auto Insurance Discounts
ACCC doesn't provide as many discounts as other top carriers might offer for their standard coverage. Even so, the insurer provides specific discounts that drivers can take advantage of. Among them are:
Good Driver discount
Low Mileage Discount
Military discount
Let the companies fight for you. Get a Quote!
Just enter your zip below
Free Auto Insurance Quotes
So far, you won't be able to get a quote online at the branded website Drivewiththeeagle.com or ACCCInsurance.com. Still, to get a free ACCC auto insurance quote, you can call an insurance agent toll-free. The company's customer service hours are between 9:00 am and 6:00 pm, Central Time.
Most drivers can save up to $600 by buying direct auto insurance. So, you can get a free online quote by using our free comparison tool. Just enter your ZIP code to compare the best premiums on non-standard insurance. Because it is fast and easy, in just five minutes, you can complete your quote application.
ACCC Insurance Reviews
In recent years, and in general, the company has had a bad reputation regarding the auto insurance claim process. The most notable complaints are based on the delay in claim payments, or even worse, the non-payment of claims.
On the other hand, many clients claim that the company has poor customer service. This lacking most negatively affects when customers need prompt responses the most, that is, when a claim has been made.
Just to give an example of complaints about ACCC Auto Insurance:
"This company is a pure SCAM Alert! They never want to pay out claims, and when and if they do, it will be a whole 3 months later. You would have forgotten the fact that you had a wreck." By Katrina Lee
Legal issues
On October 21, 2020, a judge in Texas placed the company into receivership. As a result, ACCC is no longer selling new insurance policies as the company is essentially insolvent at this time. If the company cannot find a partner with a solid financial situation to take over its insurance operations, it will not meet its financial obligations going forward.
FREE Auto Insurance Comparison
Secured with SHA-256 Encryption
Our Take on ACCC Insurance Company
At this time, ACCC insurance is not advised because the company has serious financial problems. Additionally, because the company is in receivership, the position of current ACCC policyholders is uncertain. Most likely, in the event of a car wreck and after filing a claim, they will not receive any claim payouts.
Fortunately, other alternatives may be more advantageous than ACCC for clients in need of non-standard insurance. The list includes solid carriers like TheGeneral.com and Good to Go Insurance Company.
In less than five minutes, you will be able to compare affordable non-standard auto insurance premiums. Get a quick quote online, and you can check out the best rates of the leading insurers in the U.S. Compare direct quotes and start saving hundreds on the coverage that best meets your insurance needs. Start your free, no-obligation online quote right away.
Let the companies fight for you. Get a Quote!
Compare Quotes From Top Rated Insurers. Good Drivers Can Save 50% or More. See How Much You Can Save Now!
Secured with SHA-256 Encryption