How Much Is Car Insurance Texas per Month?
Car insurance Texas per Month is cheaper when you go direct auto insurance. Compare quotes, save on your coverage up to $500 per year, starting at $18 per Month.
FREE Auto Insurance Comparison
Secured with SHA-256 Encryption
Driving is considered a privilege in many areas, but it's also necessary in Texas. Texas is known as the second-largest state, and to "get around," you need a vehicle and proper insurance coverage. Any Texas driver who has an accident must have the means to compensate for damages or injuries caused to anyone else. Having car insurance Texas is an essential investment for all drivers, and it is also the law in this state.
Texans pay about $150 more on average for car insurance than the national average. However, Texas drivers who get state minimum coverage pay less than the national average. Insurance in large cities such as Houston and Dallas costs more than in rural cities and towns, like car Insurance in Preston, TX.
The costs of a car accident can add up quickly and exceed a person's ability to pay for it. Some people have been forced to sell all their assets and file for bankruptcy protection because they did not have adequate Texas auto insurance coverage. People can lose everything because they don't have enough coverage limits and end up in a legal battle that often ends in financial demise.
The good news is that you can get cheap Texas car insurance with the right amount of coverage to protect you in the event of a severe accident.
Read this important article that outlines valuable insurance tips that could save you hundreds.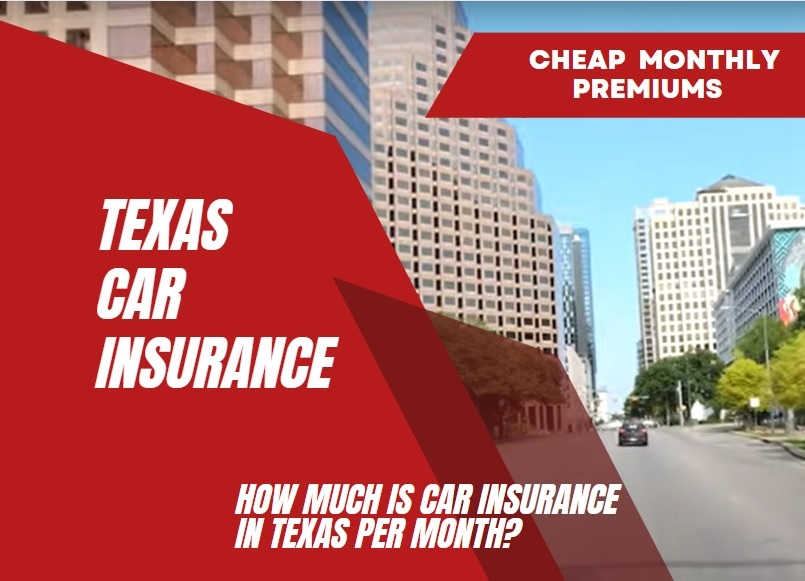 Minimum Requirements Car Insurance Texas
Every state in the U.S. requires some proof of financial responsibility for drivers that operate motorized vehicles. The majority of states require, at a minimum, drivers to carry liability insurance.
Each state has a legally-required minimum coverage amount that is set by law. The required minimum liability direct line car insurance coverage for Texas is 30/60/25.
Texas Requires 30/60/25 Coverage
30/60/25 means drivers must carry a policy with at least $30,000 coverage for bodily injury to one person in one accident — combined ($60,000) bodily injury coverage for every accident with multiple victims.
Property damage insurance is worth $25,000. Coverage limits for Texas drivers are higher than in some other states. Although they are still much lower than you need for adequate protection when operating a vehicle.
Texas Auto Insurance Legislation
Texas is taking an aggressive stance on drivers who use mobile devices while operating a vehicle. The state has submitted at least 15 new bills to address driving and texting under consideration in the legislative session for 2018. Many Texas cities are enacting laws that will carry fines from $200-$500 for drivers that use cell phones while driving.
In San Antonio, texting and driving are banned, and officers began giving tickets in January 2015. Alvin, TX, started ticketing drivers for texting and cell phone usage while in school zones. You can easily get direct auto insurance quotes in Alvin, TX.
For its part, McAllen has a similar prohibition, with fines up to $300. Missouri City, TX, has also enacted similar laws. Get auto insurance quotes in Missouri City, TX just by entering your ZIP code below.
FREE Auto Insurance Comparison
Secured with SHA-256 Encryption
Additional Types of Coverage
Drivers must understand that liability insurance only covers damage that a driver does to someone else. A liability-only auto insurance policy does not protect against damages to you or your vehicle.
Most drivers opt for a full coverage car insurance Texas policy. This means a comprehensive insurance policy that offers umbrella protection against most incidents.
If you finance or lease a vehicle, comprehensive coverage is usually required.
Something else that is very noteworthy about Texas is that it's estimated that over 30% of drivers are either uninsured or underinsured. It's wise to add on uninsured driver's coverage if you get into an accident with a motorist that violates that law and has no coverage.
Some other popular types of coverage include personal injury protection (PIP), medical payments, and GAP insurance. Get a free Texas auto insurance quote in less than five minutes and compare all the coverage options from top carriers.
Average Car Insurance Rates in Texas
Direct Car insurance can be expensive in the Lone Star state. Although drivers have some say in determining their insurance rates by driving safely and choosing cars with lower overall insurance rates, it can still be expensive to get insured in Texas.
Direct auto insurance costs in Texas are, on average, slightly higher than the average cost of auto insurance nationwide, running around $1,470 a year for most good drivers that operate a typical vehicle.
To get cheaper Texas auto insurance rates, you need a higher deductible, get all the discounts you can, and drive a used vehicle. Also, compare ten or more direct car insurance quotes to see what provider has the cheapest rates for the coverage you need.
Let the companies fight for you. Get a Quote!
Just enter your zip below
Factors Affecting Auto Insurance Premiums
Many factors affect auto insurance rates. It's a good idea to know what they are, so you can use them in your favor if possible. While some factors cannot be changed, such as age and gender, you can take advantage of car insurance discounts. Also, consider improving your credit score before shopping for auto insurance or try to find car insurance no credit check .
Auto Insurance Rates Vary
Auto insurance rates vary a lot by the provider. So, it's important to compare multiple quotes from several insurers. Drivers can also save money by paying attention to the vehicle they buy and even opting for a car that's a year or two old.
Many variables in play result in auto insurance quotes often being vastly different between car insurance companies in Texas.
You must shop around and compare auto insurance quotes if you want the best chance of finding the cheapest rates.
How Much is Car Insurance in Texas per Month
Car insurance in Texas is relatively reasonable. The insurance costs in TX are stable, in large part due to safer cars, stricter drunken-driving laws, and general improvements in driver awareness and behavior. Auto insurance in Texas costs drivers an average of $135 per month, which is just above the national average monthly premium.
Best Texas Auto Insurance Rates
Every driver has a unique set of circumstances. There is no particular insurance company or policy that works for everyone. Each insurer uses its own unique methods in determining the rates a driver pays.
What makes sense is finding the best Direct car insurance that fits your unique circumstances. When shopping for insurance, it is essential don't get fixated on price alone since the cheapest policy is not always the best policy.
Before shopping, know what coverage limits you want and need, which auto insurance coverage makes sense for you, and which discounts should apply to your situation. Don't be afraid to ask an agent for every possible discount, and shop around several insurance companies so that you have plenty of quotes to compare.
Get the best car insurance in Texas with excellent coverage and the cheapest rates today. Compare up to ten Texas auto insurance quotes in five minutes or less. To get started, enter your zip code.
Let the companies fight for you. Get a Quote!
Compare Quotes From Top Rated Insurers. Good Drivers Can Get Good Discounts. See How Much You Can Save Now!
Secured with SHA-256 Encryption