$1 Dollar a Day Car Insurance NJ 2023
Auto insurance coverage for a mere $1 per day. So, how do you qualify?
FREE Auto Insurance Comparison
Secured with SHA-256 Encryption
THINGS TO CONSIDER
If you live in New Jersey, you can get 1 $ Dollar to Day Car Insurance only if enrolled in Federal Medicaid with Hospitalization.
It has helped decrease the number of lawsuits and unpaid medical bills often resulting from car accidents.
Most New Jersey insurance companies can tell you what you need to qualify for one dollar per day car coverage.
SAIP does not cover damages to your vehicle or damages to another person's vehicle or property.
Dollar-a-day car insurance is available in New Jersey for Medicaid recipients enrolled in specific programs and requiring medical-only coverage while driving. This program was created to serve better the needs of low-income drivers in New Jersey who often drove without auto insurance coverage because the cost of insuring their vehicle was prohibitive.
The SAIP program offers minimum levels of coverage. The coverage is so limited it does not meet the minimum levels of coverage required in New Jersey. Applicants must be Medicaid recipients enrolled in the Federal Medicaid Hospitalization plan to qualify.
SAIP is very limited and doesn't offer collision or comprehensive coverage. In addition, coverage for medical injuries is limited and will not be enough to cover injuries sustained in serious accidents.
Residents in the Garden State who qualify for the Special Auto Insurance Policy or SAIP can get NJ auto insurance for $1 a day or about $30 per month. The program has helped cover thousands of drivers who otherwise could not afford to insure their vehicles.
For only $365 per year, the SAIP program will cover medical treatment up to the policy's limits and offer a $10,000 death benefit if an accident victim dies due to the incident.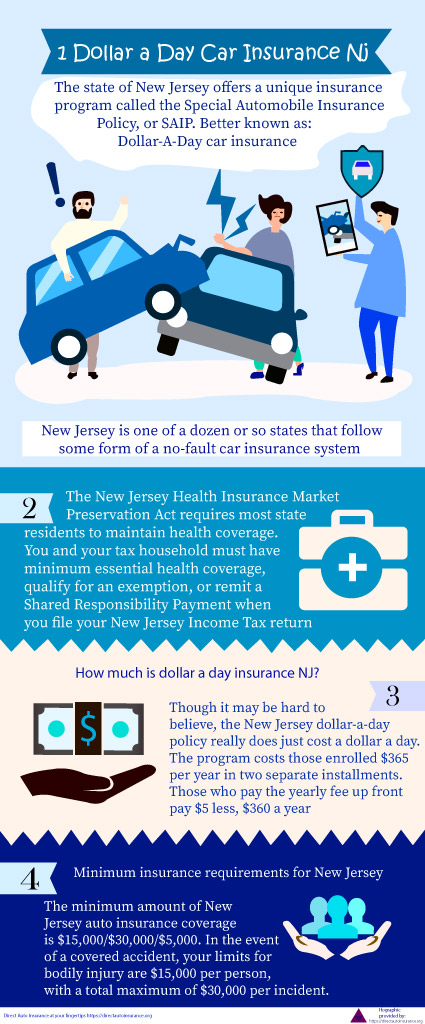 What is the SAIP, and Who Qualifies for $1 Dollar a Day Car Insurance?
The SAIP program was developed by the Department of Banking Insurance in New Jersey to help low-income drivers who might otherwise go without automobile insurance due to minimal financial resources.
For a person to qualify for the program, they must be enrolled in Federal Medicaid with Hospitalization. This means that NOT all Medicaid recipients are eligible.

Only around 200,000 NJ residents currently qualify for SAIP. Contact an insurance provider with your Medicaid ID number (found on your card) to determine if you are eligible. They will be able to give you an immediate answer.

While it is true that many drivers enrolled with SAIP lack the minimum liability insurance coverage required to operate a vehicle in NJ, this program has a huge benefit. It has helped decrease the number of lawsuits and unpaid medical bills that often result from car accidents.
How to Get $1 Dollar a Day Car Insurance NJ?
Most New Jersey insurance companies can tell you precisely how to get one dollar per day coverage. You can also perform an online search or contact (PAIP) the program's customer service department at 1-800-652-2471. The carrier writing most SAIP policies is currently the National Continental Insurance Company.
SAIP Options
You have two options if you qualify for the SAIP program in NJ and want to purchase this coverage.
Contact a local NJ auto insurance broker and buy the SAIP policy through them. You will not be charged additional fees for purchasing the policy with a broker.

Contact the Personal Automobile Insurance Plan at 1-800-652-2471 and buy NJ $1 dollar a day coverage. When you apply, you should have your Medicaid Insurance ID card and driver's license available for verification.
New Jersey lawmakers can update the eligibility requirements for the SAIP program at any time, so it's advised to call and get the most current eligibility requirements before applying to the program.
Let the companies fight for you. Get a Quote!

Just enter your zip below
Cost, Payment, and Coverage Details of $1 Dollar a Day Car Insurance in NJ
SAIP coverage is only $365 a year or $1 a day. However, if you pay for an entire year's policy in a single payment, you'll only be charged $360, making it less than $1 a day.
You can also make two installments of $182.50, or half of the yearly policy amount, every six months. Unlike buying coverage from traditional insurance companies, you do not receive quotes under the SAIP program.
There is a flat rate that everyone who qualifies must pay, regardless of their driving history or any other circumstances.
Coverage is limited to emergency treatment immediately after an accident and the treatment of severe spinal cord and brain injuries. This amount is capped at $250,000. Limits of $10,000 in death benefits are also included in your coverage. For most New Jersey drivers, even those in the lower-income thresholds, purchasing greater vehicle coverage is wise.
It's important to understand that liability insurance required in New Jersey is not included in this policy.
What Isn't Covered?
SAIP does not cover damages to your vehicle or another person's vehicle or property. It also doesn't cover outpatient treatment covered by Medicare, such as doctor's appointments. Instead, getting separate collision, comprehensive, and liability coverage policies would be best.
New Jersey Dollar-A-Day Insurance and Property Damage
As stated, SAIP does not cover collision, comprehensive, or liability insurance. It cannot be used to supplement your liability insurance.
If you want property damage liability coverage, you will not be able to sign up for the Special Automobile Insurance Program.
Insurance carriers will not break up a bodily injury (medical liability) and property damage liability insurance. You will have to decide which option is best for your situation.
FREE Auto Insurance Comparison
Secured with SHA-256 Encryption
Frequently Asked Questions about Dollar a Day Car Insurance
1. Q: If my Medicaid benefits are canceled, will my SAIP also be canceled?
A: When the policy is first written and at the time of renewal, the applicant must prove they are enrolled in Medicaid. If you no longer receive Medicare benefits while the policy is in effect, your policy will not be canceled. However, you will only be eligible for the policy's limited benefits.
2. Q: Multiple members of my household receive Medicaid. Do we all qualify?
A: SAIP only covers individuals who receive Medicaid. Each policy only allows for one car. If your household has one vehicle, everyone who receives Medicaid can be covered by the same policy.
3. Q: My driving record is terrible. Can I still get a policy?
A: Yes, as long as your registration and driver's license are not suspended or revoked and for the program Medicaid recipients, while you will be covered just if you are driving, you may still qualify for $1 Dollar a Day Car Insurance in NJ. However, the Department of Banking Insurance can deny you coverage based on your driving record.
4. Q: What is needed to apply for SAIP?
A: You should bring the driver's license of anyone who will be operating the vehicle, as well as the vehicle's registration. You will also need the Medicaid ID card for everyone you want to be covered by the policy, showing they are currently receiving Medicaid.
Be aware that anyone who provides misleading or false information on an application for car insurance may be held criminally or civilly liable. This could result in jail time and or fines.
5. Q: Could the state I live in adopt a similar program?
A: NJ is the only state to offer dollar-a-day car insurance. Other states may consider implementing a similar program if it proves successful in New Jersey. Right now, it's too soon to tell.
6. Q: I qualify for Medicaid but don't have it. Can I get SAIP?
A: To receive NJ dollar-a-day insurance, you must receive Medicaid. To determine eligibility for SAIP, you must sign up for the Medicaid program.
7. Q: I don't qualify for SAIP. What are my car insurance options?
A: Sadly, you shouldn't expect to find any other car insurance policy at such a low price. The average cost of car insurance in NJ is $1,265.69 per year. Other states, such as Idaho, with an average rate of $553 for liability insurance per year, are much more affordable.
If you can't get $1 Dollar a Day Car Insurance NJ, it doesn't mean that you are stuck, paying hundreds of dollars each year for liability car insurance.
Conclusion
For low-income NJ drivers that qualify, the SAIP program, called $1 dollar a day NJ car insurance, can help drivers who otherwise could not afford coverage get legally insured at the lowest possible rates.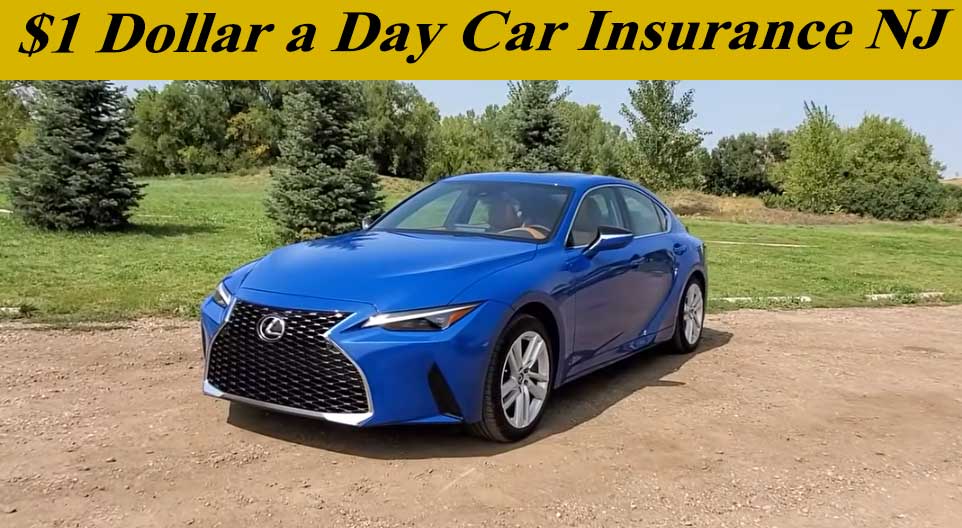 The main drawback is the limited amount of coverage offered. In most accidents, SAIP coverage will not be enough, leading an at-fault driver enrolled in SAIP to cover or be held liable for some of the costs of an accident.
We recommend getting higher levels of coverage, such as collision and comprehensive, and protecting yourself further. To check the lowest rates near you, get a free rate quote.
Our free quote tool lets you compare direct rates from the nation's top insurance companies. You can secure coverage with just $20 down. This will help you find the lowest rate possible with no obligation.
Start saving money on the auto insurance coverage you need right now! You can quickly review up to ten car insurance quotes from top-rated carriers without being required to make a purchase. Just enter your zip code and fill out a few basic questions.
Get the Cheapest NJ car insurance, with rates starting at just $1 dollar a day, while you will be covered when driving.
Let the companies fight for you. Get a Quote!
Compare Quotes From Top Rated Insurers. Good Drivers Can Get Good Discounts. See How Much You Can Save Now!
Secured with SHA-256 Encryption