Compare Auto Insurance Quotes and Get the Cheapest Florida Auto Insurance. Save 20% or more!
FREE Auto Insurance Comparison
Compare Quotes and Save!
Secured with SHA-256 Encryption
Cash Register Insurance Contact
Address: 2810 South Florida Avenue, Suite B
City: Lakeland
State: Florida
ZIP Code: 33803
Phone Number: 1-877-463-4732
TO KEEP IN MIND
Cash Register Auto Insurance has some of the lowest rates on car insurance in the Sunshine State.
Friendly agents can assist customers in transferring their coverage over to the Cash Register company.
The company offers a full line of casualty insurance, including Automobile, SR22 certification, Motorcycle, Life Insurance.
This insurer does its best to cover drivers who have had past difficulties getting insurance coverage, from reckless driving convictions to DUIs.
One of Florida's leading automobile providers is Cash Register Auto Insurance. The auto insurer has numerous offices throughout Florida, generally in smaller cities.
The popular insurer has some of the lowest rates on car insurance in the Sunshine State. Quotes are always free and never come with the obligation to buy a policy.
Each Cash Register car insurance office, is staffed with friendly and knowledgeable staff that guide customers through the insurance buying process. In addition, friendly agents can help customers transfer their coverage to the Cash Register insurance company.
The company is currently owned and marketed by Direct General Insurance. Therefore, all company inquiries should be sent to the Direct General's main corporate office.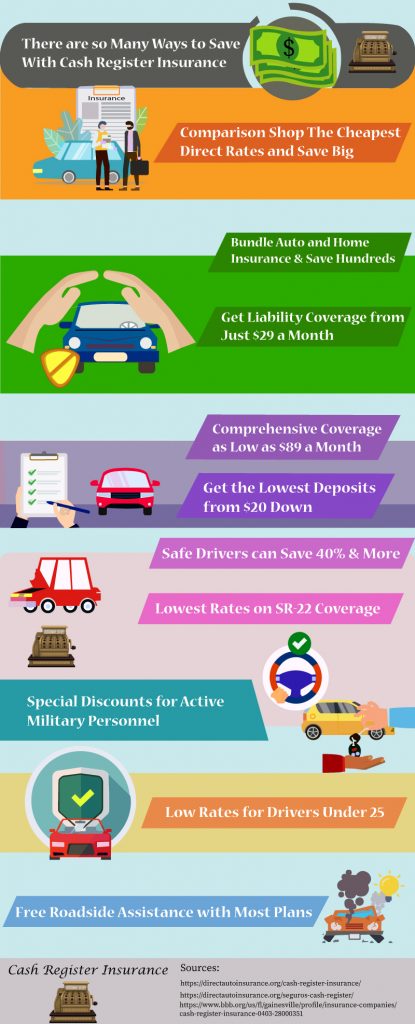 Cash Register Insurance Lines
All of the companies' insurance products are now sold through Direct General. The company offers a full line of casualty insurance, including:
Automobile – including SR22 certification
Motorcycle
Life Insurance
Cash Register Insurance Co strives to provide customers with the best automobile coverage at the lowest prices. The firm also goes to great lengths to insure drivers who have struggled in the past get coverage, from reckless driving convictions to DUIs. Additionally, the provider often insures drivers who cannot obtain coverage from larger companies.
Fortunately, getting a Cash Register quote is easy without providing a credit card or bank checking account. Furthermore, all the insurer's dedicated agents will help you find the auto coverage that fits your budget. Get a free quote today and compare rates with Cash Register Insurance.
Cash Register Auto Insurance – Optional Coverage
Roadside Assistance – Having the added security of roadside assistance is comforting, especially to drivers on the road. Drivers can get covered with Cash Register roadside assistance for only $3 extra per month.
Uninsured Motorists Coverage – This essential coverage protects you against drivers without automobile insurance coverage. Cash Register, uninsured motorist protection, starts at $15 per month.
Gap Insurance – New automobiles often depreciate rapidly, dropping in value by 35% or more in the first year of ownership. So, if you purchase a new vehicle and get into a wreck that totals the car, chances are you will owe more than it is worth. Gap insurance helps cover the difference and only costs a few monthly dollars.
Accidental Death – This optional added-on coverage will pay out $5,000 in death benefits to the named beneficiaries on the policy if you die in a vehicular accident in a covered automobile.
Florida High-Risk Auto Insurance
You can get affordable no-fault Florida insurance if you're a high-risk driver with a DUI on your record and need coverage.
Even with your bad driving record and low credit scores, Cash Register Auto Insurance can be the way to get a high-risk motorist plan starting at $600 per year.
You can even get a free $20 down payment car insurance plan for the first month. If you had a hard time finding affordable coverage in the past, Car Register Insurance could help you lower your premiums.
Cash Register Insurance Discounts
If you're a good driver, you can get an instant auto insurance discount of 10% or more at Direct General Insurance Company. By combining all your automobiles with Direct General, customers can get meager rate discounts of 10% or more. Consequently, you will simplify payments with only one insurer.
Besides, the carrier has special rates for senior drivers with a good driving record and military discounts for those valued service members.
The main auto insurance discounts include:
Safe Driver
Student Discount (qualified drivers must have a B or higher GPA)
Military Discounts -available for active members of any military branch and veterans
Multi-vehicle – for drivers that insure two or more automobiles on their policy
Bundling auto and home
Garage Parked
Homeowner Discount
Anti-Lock Braking System
Defensive Driver Course Completion
Senior Citizen Discounts
Policy paid in full discounts (save 2%)
Cash Register Website
Since Direct General now owns Cash Register Insurance, the company only performs its marketing and quote processing on the Direct General website. Direct General offers instant online auto quotes and online payment options.
Payment Options
There are several options to pay your Cash Register Car Insurance bill. Customers can choose to pay by:
Mail
Phone
Online
In-person at a local office
You can also set up automatic payments online that allow recurring policy payments on a specific day of the month.
Cash Register Insurance Claims
Direct General now handles the claim process for Cash Register customers. The company promises a fast and friendly claim process with specialists standing by to assist customers with any questions or problems.
You can also follow your claim status online anytime or call a friendly representative who will assist you.
Our Take on Cash Register Insurance
Cash Register Insurance is a niche insurer offering great car insurance rates coupled with excellent customer service. Drivers often save 20% or more by switching to Cash Register, and the provider has several discounts that drivers can take advantage of.
All in all, the insurer has some of the lowest rates for state minimum auto insurance in Florida, with rates as low as $39 a month. If you need "bare-bones" coverage, Cash Register Auto Insurance should be on your list.
Contact a Cash Register helpful agent today to see what discounts you qualify for. Get your free auto insurance rate quote, and see how much you can save. Start your online quote with Cash Register or call toll-free to get quoted over the phone.
Let the companies fight for you. Get a Quote!
Compare Quotes From Top Rated Insurers. Good Drivers Can Get Good Discounts. See How Much You Can Save Now!
Secured with SHA-256 Encryption