Cheap Car Insurance with No Deposit Required
Cheap car insurance with no deposit, you should pay at least the first-month installment upfront.
FREE Auto Insurance Comparison
Secured with SHA-256 Encryption
When buying cheap car insurance with no deposit, you should pay at least the first-month installment upfront. Deposits typically range from 8% to 33% of the total policy premium amount. If you are looking for cheap car insurance with no deposit, you should do thorough research. You might have found very cheap auto insurance deals with low or no down payment. However, do not be fooled. It might seem an out-of-this-world offer and end up as fake ads or, even worse, a scam.
Auto insurance with zero deposit might seem like a great deal at first. Is there any way to tell if it is authentic? By reading this article, you will learn all the information you need to purchase instant car insurance with no deposit. Could you really get this type of insurance deal? Let's see the facts.
Use our free online comparison tool to compare multiple quotes at once. Enter your zip code and get the best rates for cheap car insurance with no deposit required.
What Is the Cost of a Down Payment on Auto Insurance?
The down payment is included in your auto insurance policy's total price, but it is not an additional charge to your premium. No down payment car insurance is not a typical offer that most drivers can get. The amount of the down payment will be deducted from the total price of the policy. Some companies sell low-cost car insurance for drivers who want basic coverage. It allows policyholders to drive on public roads legally.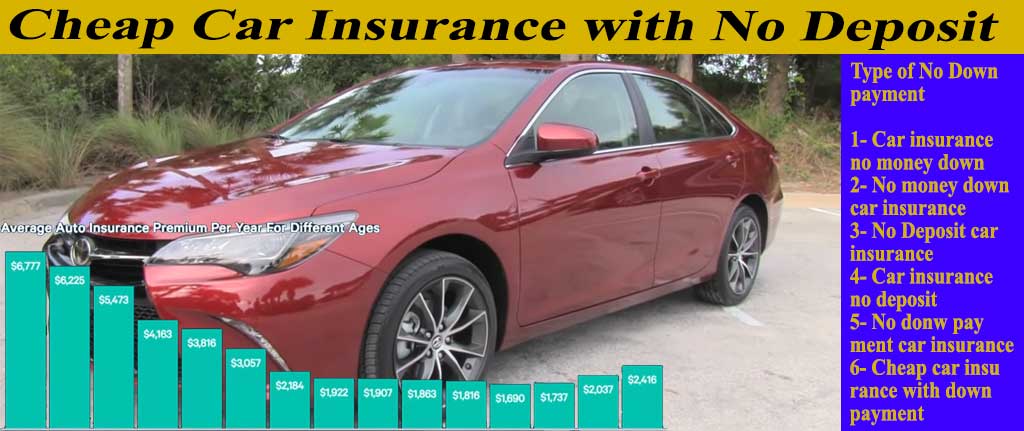 The information in the table below could help you compare the six-month average rates and different down payment percentages from major auto insurance providers. The higher the amount of the down payment, the lower the future monthly installments. You should see the down payment as part of your policy and not as an additional charge. You should also be aware that some providers offer a discount for those who pay the full premium in only one payment in advance.
How to Qualify for Auto Insurance with No Down Payment?
To drive legally, almost all states require you to have minimum amounts of auto insurance coverage. You might find advertising deals for $20 deposit policies or free car insurance for the first month. You should be aware that not everyone will qualify for these deals.
So, could you get auto insurance with no down payment? Some providers offer no deposit policies, but only if you pay the full premium upfront. This will not be cheap, but some methods will help you save money. Before we get there, let's look at the factors that auto insurance providers typically consider when calculating your rate, in addition to required deposit amounts.
Credit score
Age and marital status
Driving history
The place where drivers live
Make and model of the vehicle
Options of payment
Most of these factors are well known, but the payment options could come as a surprise to many. Drivers looking for cheap car insurance with no deposit often have limited budgets. It is challenging for them to pay for a six-month or a one-year policy upfront.
Age is another factor that we mentioned earlier. Data provided by the National Association of Insurance Commissioners (NAIC) says that given that younger drivers are considered more reckless motorists and have to pay much higher rates. This age group often takes more risks behind the wheel and are more likely to file claims.
As mentioned above, insurers also consider marital status when determining rates. According to USA.gov, an official website of the United States government, marital status influences your auto insurance policy's price. Married people are less likely to be reckless drivers and file far fewer claims than single drivers.
All of these factors used to calculate auto insurance rates are not legal in all states. You might live in a state where it is possible to get car coverage without a credit check or where age, gender, and marital status do not affect your rates.
Why Do Auto Insurance Providers Require Down Payments?
As is the case when you buy something online these days, full payment of the policy is often required upfront. Providers might offer no down payment car insurance or first-month free policies, but these are publicity stunts, and you shouldn't fall for it.
Free auto insurance sounds great, but that's not how it works. It would help if you were sure that the auto insurance policy you will buy would be sufficient to cover you in the event of an accident.
Is Cheap Car Insurance with No Deposit Really Available?
Google gives you in a fraction of a second many results for buy now pay later car insurance, or zero down payment car insurance. However, your confusion will not end there. Let's clarify some of these terms:
Zero-down deposit: With this option, you could purchase auto insurance without paying a deposit. Some companies use zero-down deposit policies as a trick to get customers to buy second-class auto insurance.
Car Insurance with No down payment: This is often mistaken for zero deposit. With no down payment policies, the first amount you pay is not precisely a deposit but the policy's first installment.
Monthly payment car insurance: This is based on a 12-month auto insurance policy and divided into twelve equal payments.
Auto insurance providers require a monthly payment to purchase insurance and for it to be considered effective.
Could you really buy cheap car insurance with no deposit? We would not recommend it. Not only is it more expensive but it's likely that when you have the first accident, no matter how small, and need to make a claim, you may have some issues. This includes fully paying for the costs related to the incident if you have coverage with low limits.
Which Company Offers the Cheapest Car Insurance?
Below is a list of car insurance rates offered by major providers in the country, and it has been organized into different categories:
Average Annual Car Insurance Rates according to a Drivers Record and Credit History
| | | |
| --- | --- | --- |
| Companies | Driving Record | Driver Credit History |
| USAA | $2,537.30 | $2,577.25 |
| Geico | $3,215.01 | $3,227.04 |
| State Farm | $3,260.00 | $3,326.15 |
| American Family | $3,443.09 | $3,443.08 |
| Nationwide | $3,450 | $3,421.35 |
| Progressive | $4,035.52 | $4,107.60 |
| Farmers | $4,194.27 | $4,146.89 |
| Travelers | $4,434.91 | $4,521.10 |
| Allstate | $4,887.96 | $4,977.16 |
| Liberty Mutual | $6,073.46 | $6,264.88 |
USAA has the lowest total average rate among the top providers in the United States, based on the information we've found. However, it's important to note that only active-duty military and veterans could enroll in the agreements of this company.
State Farm and Geico also offer excellent rates without this condition. It is worth noting that the rates we are referring to are average rates. Therefore, your rates could be lower or higher, depending on your particular situation.
Let's see an example for a better understanding. A customer with a good driving record could pay $3260.00 in a year with State Farm, and slightly less with Geico, $3215.00. On the other hand, with Liberty Mutual, the same coverage type could reach almost double that amount. An annual Liberty Mutual premium could be $6073.00.
How Could You Reduce Your Auto Insurance Rates?
A simple method to lower your car insurance rates is to shop around for lower prices and compare the costs of various companies' coverage. With our comparison tool, you could compare the prices of different policies and get car insurance quotes. You could also save on broker fees if you bought your auto insurance policy online. Start your search now to get cheap auto insurance that fits your particular situation.
You could also benefit from the different discounts that auto insurance companies offer. Providers automatically include almost all discounts in your policy. Let's now look at a list of standard discounts offered by insurers. You could discuss this with your customer service representative or agent.
Discount for safe driver
Discount for good student
Paperless discount
Multiple policy discount
Paid in full discount
Discount on safety devices
Telematics programs
Separately, these discounts only save a little money. However, if you could qualify for multiple simultaneous discounts, your total premium should be significantly less.
Where Can I Find Very Cheap Car Insurance no Deposit Near Me?
Some questions are familiar to those drivers with limited funds seeking cheap car insurance coverage. these include: could you get buy now pay later auto insurance? Are there very cheap car insurance offers near me? The simplest method to find such deals near your location is to get a quote online or get a free quote over the phone.
If you are looking for cheap auto insurance, you could take advantage of our online comparison tool, whether you live in Texas or Missouri. Enter your ZIP code and get quotes tailored to your particular requirements.
How can I get cheap auto insurance with no deposit required?
Providers offer car insurance policies based on a premium. The premium amount is the price you pay for the car coverage provided by your policy. Almost all companies allow you to use monthly installments to make your premium payments.
Do all vehicles need a defined amount of required car coverage?
Auto insurance coverage is mandatory almost everywhere in the United States. There is no way to avoid this expense. Also, nearly all providers require you to pay a down payment when you buy your policy as a sign of your intentions to pay for the coverage they provide.
After these details on zero deposit auto insurance, let's review the average monthly rates from top providers in the industry.
Average Monthly Rates from Top Auto Insurance Companies
| | |
| --- | --- |
| Companies | Average Monthly Rates |
| | |
| --- | --- |
| Allstate | $408.18 |
| American Family | $286.92 |
| Farmers | $349.03 |
| Geico | $268.03 |
| Liberty Mutual | $507.99 |
| Nationwide | $287.22 |
| Progressive | $336.98 |
| State Farm | $272.26 |
| Travelers | $370.40 |
| USAA | $211.82 |
You might only have to pay the first month's premium for your car insurance policy to be effective. If you choose to pay your premium once a month, you need to be very careful with your schedule and never miss a payment. Some providers accept checks for the deposit, but choosing automatic payments could guarantee you always pay on time.
Final Details About Cheap Car Insurance with No Deposit
We've looked at the basics of zero down auto insurance and listed some methods to save money on car coverage. So, what's the conclusion of the matter?
Auto insurance providers must inform the state Department of Motor Vehicles (DMV) when a driver first obtains auto insurance or cancels a car insurance policy. It is not in car insurance companies' interest to present proof of coverage in advance if you don't pay a deposit first.
Choosing the right coverage for you and driving carefully to avoid claims are effective methods to save money on auto insurance. However, shopping around for cheap coverage is the best way to get a policy that you could easily pay for.
We could help you find cheap car insurance with no deposit at the best rates for your particular coverage needs. To get started, enter your zip code and lower your premiums today.
References:
Let the companies fight for you. Get a Quote!
Compare Quotes From Top Rated Insurers. Good Drivers Can Get Good Discounts. See How Much You Can Save Now!
Secured with SHA-256 Encryption