Car Insurance Under $50 a Month
It may be difficult to get car insurance for about $1 a day, but you can qualify for car insurance under $50 a month!
FREE Auto Insurance Comparison
Secured with SHA-256 Encryption
THINGS TO CONSIDER
While it is nearly impossible to get car insurance coverage for around $1 a day, you can qualify for car insurance under $50 a month.
Getting affordable coverage depends on lowering your risk profile a lot.
It is essential to know the factors that influence getting $50 a month car insurance.
We've all seen the online ads that claim monthly car insurance as low as $29 a month. For most people, it just doesn't pass the "smell test." The truth is it's almost impossible to get auto insurance coverage for about $1dollar a day. However, you might ask, can I qualify for car insurance under $50 a month, or is there even such a thing?
Let's dive into this topic with some necessary data and helpful tips that will give you the chance to get $50 a month car insurance, or very close to it.
Who needs Car Insurance Under $50 a Month?
There are numerous reasons why some want to get auto insurance under $50 a month. Here are just a few.
They need $50 car insurance to make their budget work.
Other Fixed Monthly Bills went up, and they need cheap car insurance no deposit.
They lost their job and still need minimum coverage at the lowest rate possible.
Someone retired that doesn't drive much and is on a fixed income.
Retired people who don't drive as much and need to reduce their fixed expenses.
Someone is moving out of the country for a couple of months and needs the cheapest possible car insurance.
Is $50 Monthly Auto Insurance Even Possible?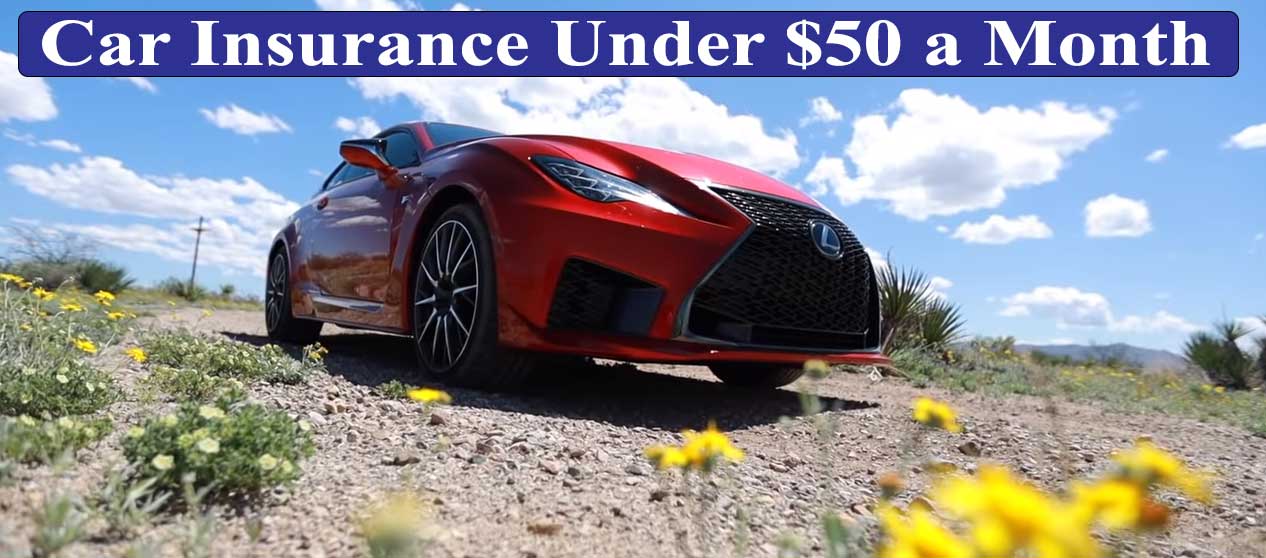 This interesting question needs further exploration. Many people are doubtful that $1dollar a day automobile insurance is realistic, but hold out some hope that $50 a month auto insurance might be attainable.
Although the truth is it's hard to get such cheap insurance coverage, the good news is it's realistic if the driver meets specific criteria.
Getting affordable coverage depends on lowering your risk profile a lot. It also depends a lot on where you live and, of course, the vehicle you drive.
Factors that Influence $50 Car Insurance
Here are some factors that will help you get $50 a month auto insurance.
1. Live in a State that has Lower Rates
The average state by state auto insurance premiums varies a lot. Michigan might average over $2,800 for an annual, basic collision policy. That same coverage in South Dakota might cost less than half of that. Here are the cheapest states to insure your vehicle. If you live in one of these or are moving to one soon, you are in luck.
Maine – Annual Rates Average Less than $925
New Hampshire – Most Annual Plans are Under $975
Ohio – Yearly Coverage Averages about $1,000
Wisconsin – Most Yearly Policies are less than $1,025
Iowa – Annual Coverage Averages about $1,100
If you don't live in one of the cheapest states for auto insurance, don't worry. There are other things you can control to lower your rates.
Get a no-obligation free car insurance quote online or over the phone in less than five minutes. Just enter your zipcode below to get started.
Let the companies fight for you. Get a Quote!
Just enter your zip below
2. Drive a Car That's Cheap to Insure
It seems like common sense. However, many people don't check insurance rates before falling in love with a vehicle that might be too expensive to insure. This happens a lot with sporty vehicles, like a Chevy Camaro or Ford Mustang.
Always check the average rates on any automobile you are seriously interested in buying. Doing so will help your chances of getting car insurance under $50 a month. According to comparison site The Zebra, here are a few of the cheapest cars to insure in 2020.
Subaru Outback – $644
GMC Canyon – $651
Nissan Frontier – $694
Fiat 500X – $719
Jeep Compass – $729
GMC Sierra – $732
Ford Escape – $735
Ford Transit Connect – $735
Chevrolet Traverse – $735
Kia Sportage – $737
Notice that none of the vehicles on this list are expensive exotic vehicles like a Jaguar, nor sporty cars like a Corvette. Based on data, insurers have noticed that SUVs are driven more carefully because they often carry children and family members around. They also have fewer fatalities than other vehicle types due to their large size. For these and several other reasons, they are cheap to insure.
Some vehicles you would think are cheap to insure are, in contrast, expensive. This includes the Honda Civic and Accord. These cars are expensive to insure because they are frequently stolen. It's super difficult to get auto insurance coverage under $50 a month with these two models.
The good news is both the Subaru Outback and GMC Canyon have rates that average near $50 per month. This includes all drivers, even those with high-risk profiles.
3. Raise Your Credit Score Above 700
Insurers are placing more weight than ever on a person's credit when determining premiums. While some think this is discriminatory, the stats show that those with higher credit scores are safer drivers, file fewer claims and commit far less insurance fraud.
The higher your credit rating is, the lower your premiums will go. If you have a score in the 500s or 600s, get it above 700 as soon as you can. Check your credit report for any false items and get them removed as quickly as possible. Having a good credit score over 700 will save you 10% or more off your premiums and help your chances of getting car insurance for less than $50 per month.
FREE Auto Insurance Comparison
Secured with SHA-256 Encryption
4. Reduce Your Coverage
Do you drive a vehicle that has depreciated 50% or more and is worth less than $8,000? Is it more than 10 years old? If so, you might want to reduce the coverage on it. You could drop expensive coverage like collision and comprehensive coverage and get basic liability insurance. Doing this could help you decrease your rates by 30% or more. This also applies to a second vehicle that you don't drive much. Remember, if you finance or lease your car, you will be required to carry comprehensive coverage in most cases.
5. Raise Your Deductible to $1,000 or More
The truth is that many people do not think about this valuable tip. The higher you set your deductible, the lower your premiums will be. If you have the discipline to save the deductible amount, and you get into an accident and need to file a claim, go as high as you can. If you don't want to go that high, you can still get a reasonable rate with a $500 deductible.
6. Stay Accident and Ticket Free
One of the best ways to get cheap insurance is to be a safe driver. This means having a clean driving record and not having any at-fault accidents on your record. If you do get a ticket, go to driving school, so it stays off your record. If that's not possible, make sure you pay your ticket right away and don't get another one. Just enter your ZIP code below and comparison shop up to 10 quotes.
Let the companies fight for you. Get a Quote!
Just enter your zip below
7. Keep your Teenager and any Driver Under 25 off your Policy
Teen drivers can cause their parents' auto insurance premiums to skyrocket. Young drivers under 20 are the most dangerous drivers on the road. If you add a driver under 25 to your policy, your rates will likely double or increase even more.
Young motorists take extreme risks like reckless driving and sending text messages while driving.
If you have a teenager who needs coverage and can't afford it, it shows some tough love. They can either get their own policy, get rides with friends, or hop in an Uber to get around.
8. Get Every Discount You Possibly Can
Qualifying for several discounts can help you get auto insurance coverage for $50 a month. These are a few that can save you the most.
Safe Driver Discount
Low Mileage Discounts
Bundling Auto and Home Insurance
Multi-Vehicle Discount
Defensive Driver Discount
Military Discount
Safety Features Discounts – This includes airbags, anti-lock brakes, and GPS Based Security Systems
Loyalty Discount – for those customers that renew their policy
Good Student Discount (GPA of 3.0 or higher)
Paying the Full Premium in Advance
Garage Parking Discount
FREE Auto Insurance Comparison
Secured with SHA-256 Encryption
9. Maintain Continuous Coverage
Did you know if you cancel your auto insurance and don't get a new policy for an extended period, it can cause your rates to go up when you get new insurance? This is why maintaining continuous coverage can help you get the cheapest auto insurance possible.
10. Shop Around for the Best Rates and Plans
If you need $50 a month car insurance, you need to invest some time comparing quotes—review ten or more quotes from local, regional, and national insurers.
Get online quotes from direct providers as well as quotes from agents and brokers. The more quotes you review will help increase your chances of getting auto insurance under $50 a month.
Now that you've learned some valuable tips on how to get $50 monthly car insurance, it's time to start comparing online rates. It only takes about 5 minutes to apply for your free quotes, and you can even use your smartphone. Get started now by entering your zip code and filling out a quick application. Get the coverage you need at the best rates right away.
Let the companies fight for you. Get a Quote!
Compare Quotes From Top Rated Insurers. Good Drivers Can Save 50% or More. See How Much You Can Save Now!
Secured with SHA-256 Encryption